About Souks
At Souks Mediterranean Street Food our aim is to take you on a street food safari around the Mediterranean
From the souks of Marrakesh to the streets of Greece, Lebanon and others we bring you the best of their street cooking styles, diversity and traditions
We aim to make you fall in love with the aromas and flavours of the regions produce, from the olive oil, cheeses and the best of herbs and spices. With dishes such as hummus, falafel, tajines, shawarma and gyros served with a personal twist.
Souks is small in space but big on flavours. We have limited seats so reserving a table is preferable, making a booking now!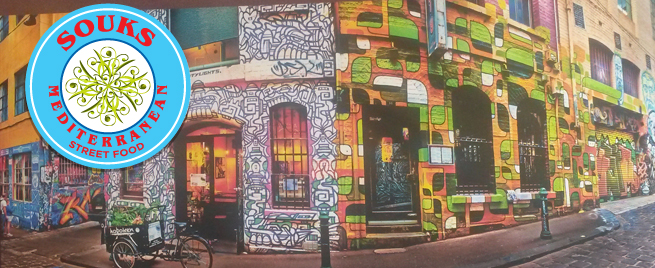 Souks History
Who would have thought that a boy from Beirut and a girl from the Central Coast would form a partnership in life and in business and bring their travel experiences from around the Mediterranean to your table.